The end of March signifies the end of Year 2 for the Pendle Hill Landscape Partnership! Over the next few weeks we will be sharing some of our favourite stories, events and activities from the past 12 months.
Community Archaeology Outreach
The PHLP Community Archaeology project is lucky to work with the Archaeology Department at UCLan. Over the past four years we have worked with an intern from the University's internship programme. Last summer, Danielle Knights joined us over 8 weeks and delivered a number of archaeology based outreach sessions to different groups.
Danielle taught us more about local roman connections, the archaeology of pottery and gave members of the public (of all ages) a new insight into what it means to be a modern day archaeologist! She hosted sessions for local organisations, 3 local schools, the PEN group, family friendly event and the Pendle Summer Roadshow.
As part of The Gatherings project, artist due Lunchtime Practice were commissioned to work alongside Danielle and the outreach sessions. As newbies to the world of archaeology themselves, they were able to produce creative resources and activities to appeal to a wider audience at different events.
If you attended any of the sessions, we hope you enjoyed them – and hopefully we are aiming for more archaeology outreach in the future! Danielle did a fantastic job, and is currently continuing her archaeology studies at UCLan.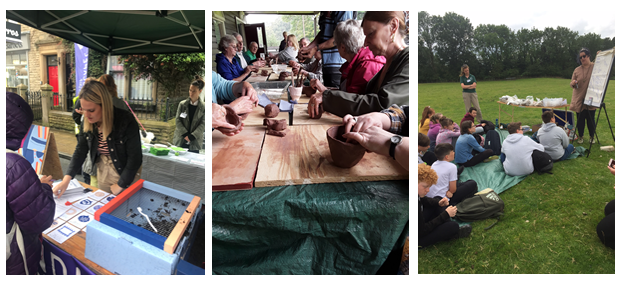 Walling and Hedgelaying
The Traditional Boundaries project, delivered in partnership with the Dry Stone Walling Association (DSWA), has been very buys over the past 12 months. Volunteers have been able to get involved in beginners walling and hedgelaying courses, learning new skills and more about the heritage of our landscape.
Over July and August, 8 participants successfully completed their Level 1 Certificate in Dry Stone Walling.
We have also had professionals out restoring and repairing sections of dry stone wall, and also planting up new hedges and laying existing hedgerows. Dry stone walls and hedgerows are really important within our landscape for lots of reasons. They provide homes for lots of insects, birds and small mammals; they are important for natural flood management, and slowing the flow of water; they provide boundaries for livestock within farmland; and they have an important heritage and history, particularly within the local uplands landscape.
Unfortunately current opportunities and courses for traditional boundaries have currently been postponed, due to the Covid- 19 situation, however please keep checking our social media and website for when these will be rearranged too.
Find out more about our partners Dry Stone Walling Association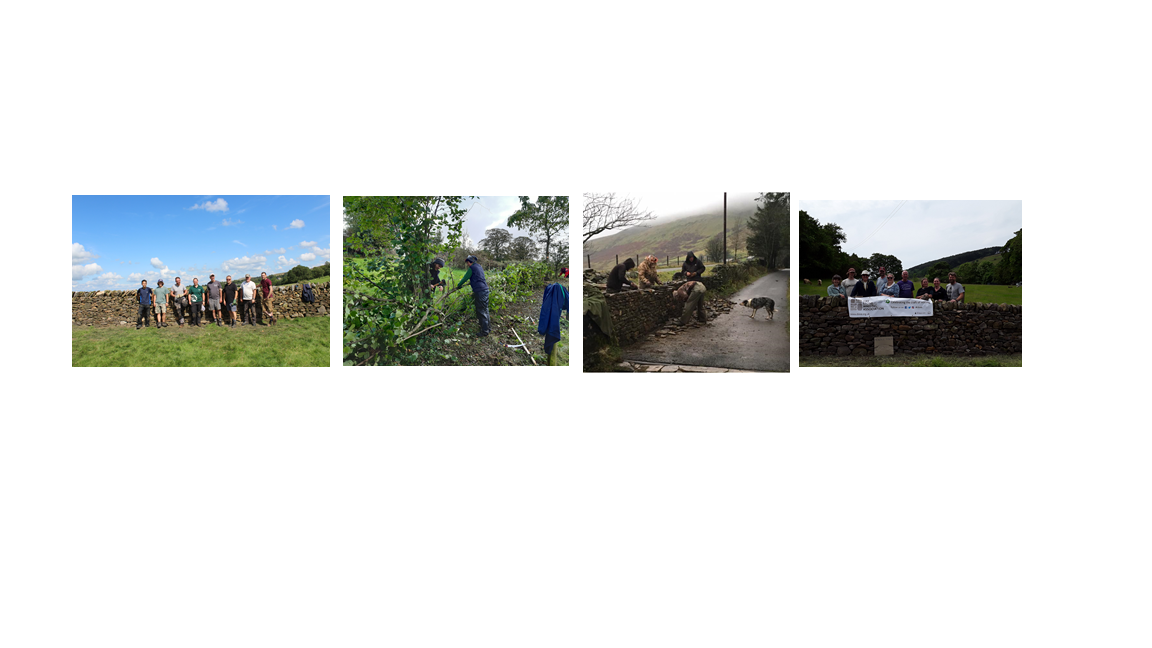 Action for Conservation Work
At the start of the year pupils from Ribblesdale High School and Pendle Community School joined us for conservation WildED workshops.
We worked with Action for Conservation to teach pupils about local environment and current environmental issues. The pupils got stuck in to developing their own environmental action project. Some pupils taught local primary school children about plastic pollution, whilst others planted wildflower seeds to help increase numbers of pollinating insects. All pupils were inspired to do their bit for the local environment and learn more about nature!
Find out more about Action for Conservation here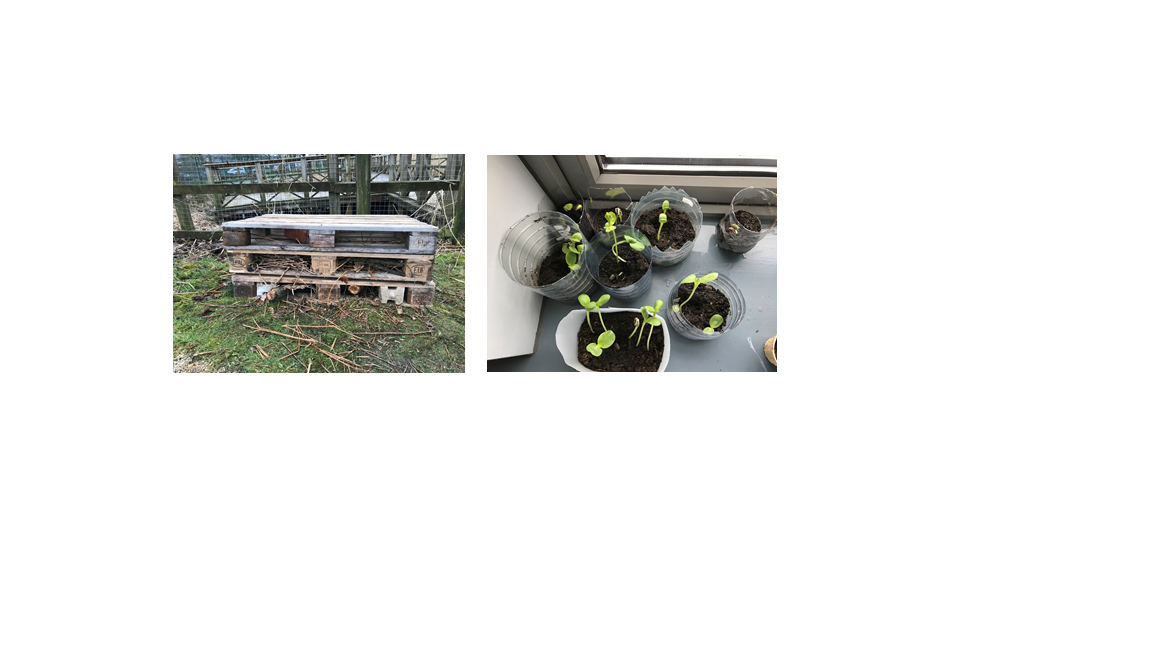 Volunteering
Our volunteers were very busy over year 2 – getting involved with lots of different activities across the Landscape Partnership area.
From invasive species removal in the summer to woodland management in the winter, meadow restoration at the Clarion House and installing new stone waymarkers on the summit of the hill – we could not deliver the project without our wonderful volunteers! As well as practical group conservation activity, some of our volunteers get involved with our Outdoor Learning Officer and assist with family events, and other volunteers go out individually and check promoted walking routes.
We would like to say a huge thank you to everyone who has spent their time and effort helping us maintain habitats, restore the landscape, deliver events and assist with activities. Over Year 2, we recorded nearly 200 volunteer days and welcomed 107 new volunteers!
All our volunteering activity is sadly postponed for the foreseeable future, but we hope to see you all soon!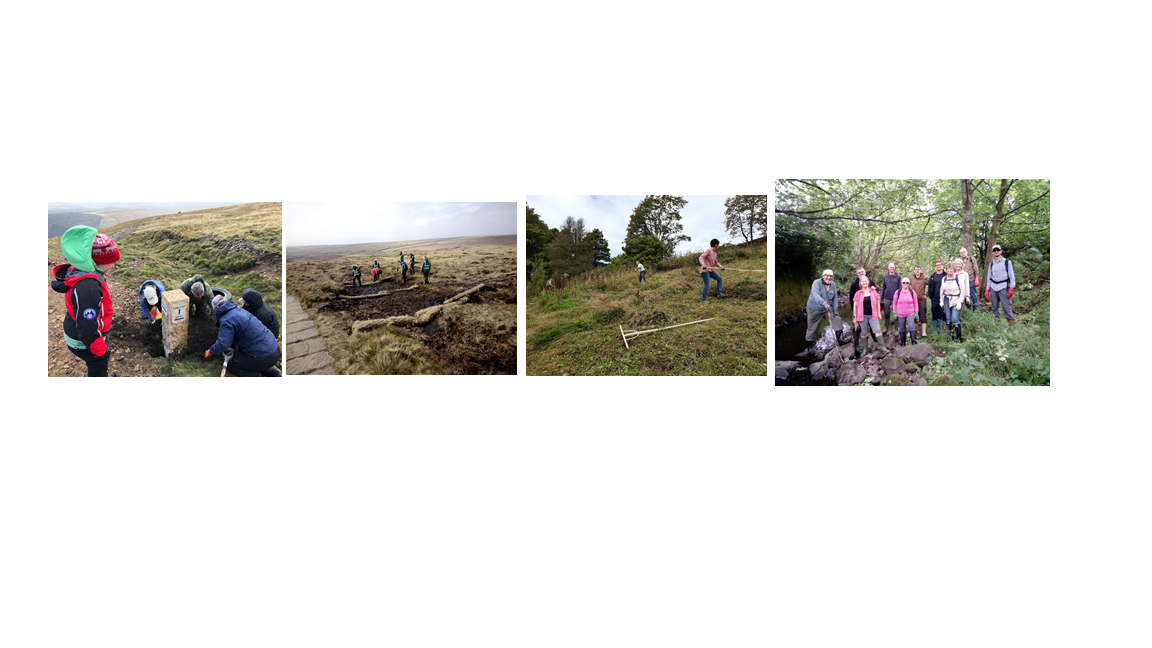 People Enjoying Nature
The People Enjoying Nature group have been enjoying lots of different activities over the past 12 months. Last spring we got involved with lambing, we learnt more about local archaeology in the summer and have been involved in practical conservation tasks throughout the year. Walking is a big part of PEN, and we have been exploring new routes, as well as revisiting some favourites!
We hope that individuals who join the PEN project learn new skills and more about local nature and environment. But most importantly we have lots of conversations, lots of smile and lots of laughter as we enjoy the wonderful Pendle Hill landscape.
The PEN project is delivered in partnership with Community, Engagement and Prevention Team, which is part of Lancashire and South Cumbria NHS Foundation Trust. This partnership has resulted in a successful project, and we must thank Nick Alderson in particular for working with us on this.
Find out more about the PEN project on the project page.