LITTLE SAPLINGS
Little Saplings - a bi-monthly (2nd and 4th Wednesday of most months)
event for under 5 year olds.
Little Saplings 2020 dates and booking information can be found on our Eventbrite profile. Booking is essential from January 2020 via:
www.eventbrite.co.uk/o/pendle-hill-landscape-project-18147397743
The activities will be aimed to suit 18 months to 5 year olds, but all under 5's are welcome to attend and get a lot out of the sessions. The sessions are 1.5 hours of outdoor free play, which are child led. Parents are encouraged to allow the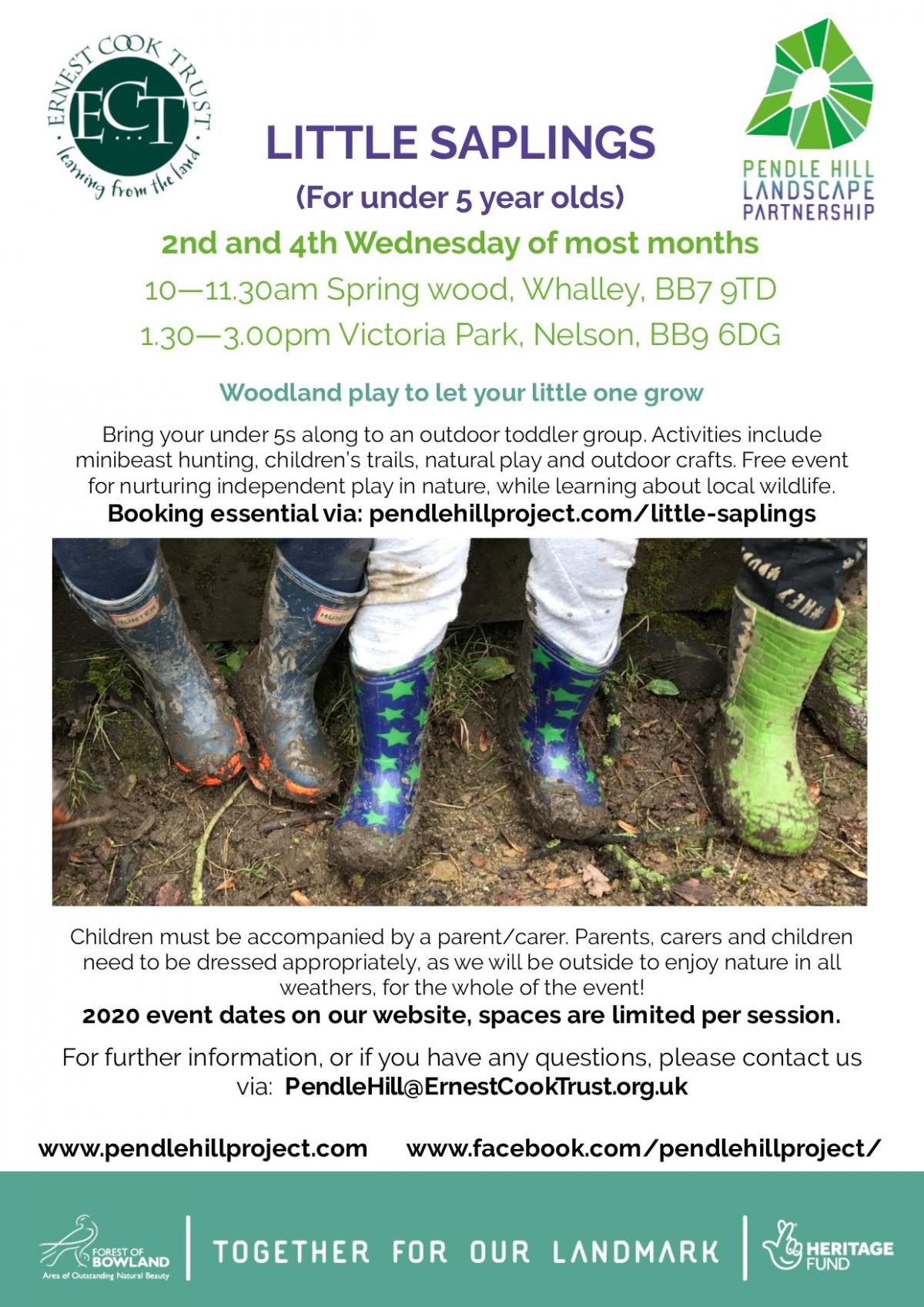 children to discover their environment independently. There will be a small fire lit at some sessions, with something being cooked on the fire (marshmallows, popcorn etc.).
Know before you go
Mobility
Suitable for people with limited mobility, level paths and easy access. Please contact organiser if you have any questions.
Wheelchair and pram access
Suitable for wheelchair users and prams. Please contact organiser if you have any questions.
What to bring
Children must be accompanied by a parent/carer at all times. Parents and carers need to bring children (and themselves) suitably dressed for the outdoors, mud and weather. (Not all children get muddy at the sessions, but all have fun). Get in touch if you need to borrow any kit. Please remember to bring own snacks and drinks necessary for the child(ren).
Parking and toilets information
Parking is on site (local parking charges apply), see booking confirmation email about location. There are also toilets available at the car parks.
Booking process
Booking essential for 2020 dates. Please book a place for your 18 months to 5 year old aged children, as the event is aimed at this age range. Any younger siblings are welcome to attend, but do not need a ticket. If you can no longer attend the event, please log back in to cancel your order. This will allow other children to take your place, as the events have a maximum capacity (this is to maintain the ecology of the site and quality of the event). Booking via: www.eventbrite.co.uk/o/pendle-hill-landscape-project-18147397743
For further information, or if you have any questions please email: PendleHill@ernestcooktrust.org.uk
Privacy Notice
For Forest of Bowland Area of Outstanding Natural Beauty Partnership Privacy Notice, please see: https://forestofbowland.com/Privacy-Notice